We have posted enough and more budget wedding, what about a big fat wedding? One wedding with all best elements needed to make it rich, memorable to the best of its class. We did a bit of research and came up with a big fat wedding plan. Read on:
Wedding Venue
Let us start with the venue. Wedding venue is very important, the kind of venue you select describes how posh the wedding is. Similarly, the specialty also matters since a rich wedding is not about money, it is about style, attitude and class.
Venue needs to be exotic and hence we found one, Laucala. One of the world's most exclusive private islands, the exotic Laucala boasts of equestrian centre, luxury watercrafts for blue water fishing, kite surfing and other water sports. It also has a plush 18-hole championship golf course. This way your exotic destination wedding also teams to be a fun adventure camp! Most of the food, including coffee, is home-grown here. Currently this hotel is undergoing renovation and will open from 01-April-2014
This is considered as one of the most expensive wedding destinations, with a price tag going as high as Rs. 9 crores.


Bridal Dress – 
The bride need to look like a queen and without doubt the dress should be the best, elegant and hence we thought a customized version of Diamond Wedding gown. This diamond wedding gown is crafted by Renee Strauss and Martin Katz. This wedding gown is the among the most expensive dress in the world, featuring 150 carats of excellent quality diamonds.


This wedding gown Cost  – $12 million USD+ 
Groom's Suite
The groom should look stunning and kingly. Hence we though about the R.Jewels Diamond Edition Suite.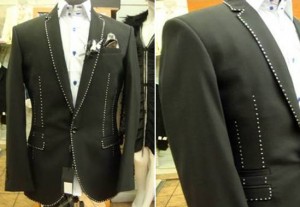 The above suit ' R. Jewels Diamond Edition ' by Stuart Hughes and Richard Jewels is known as one of the most expensive suit. The suit is made from a blend of Cashmere wool and silk and contains over 480 diamonds. Each gem is half a carat for a total of 240 carats of bling. Our suggestion will be a similar suit in a lighter color.
Wedding Suit Cost –  $943,000 USD+
Wedding Cake
We came across a cake created by a Japanese pastry chef. It's decorated with 223 diamonds. For a big fat wedding, something exquisite and unique like this cake should be the best option in this category. 


Diamond fruitcake Cost – $1.65 million+
The Champagne – 
Age matters here and so we found the best, the ultimate Old Man. This is none other than Shipwrecked 1907 Heidsieck. These hundred year old bottles of Champagne from the Heidsieck vineyard in Champagne took over eighty years to reach their destination. Shipped to the Russian Imperial family in 1916, a shipwreck off the coast of Finland caused this champagne to be lost at sea until divers discovered over 200 bottles in 1997. Now they're finally being sold to wealthy guests at the Ritz-Carlton hotel in Moscow, at least. Of course, the wine's extraordinary tale and incredible age are what makes it the world's most expensive champagne. Hence our choice for the perfect Champagne.


Champagne Cost – $275,000+
Transportation –
Considering the venue location, to enjoy the beauty and keep up with the style we thought the best option will be yacht. A luxury yach like The Adastra.  This is the perfect blend with luxury, modern amenities, style and a enormous petrol tank coupled with her dynamic sailing efficiency allows the Adastra to travel up to 4,000 miles without refuelling.


The Adastra Cost – 24825000$
The Big Fat Wedding, this is a dream for myself and many others. This is a concept which we wrote based on the research we did. Feel free to write to us with your queries, suggestions, feedback to admin@theknotstory.com. If you have a wedding you want to feature here write to us at the same mail id.
Disclaimer: Whatever written above is based on our views.